OUR NAME CHANGEDto www.wsmprod.com in February 2017.
Mrs. Custard Couple (CC) continues her household chores with Painting.
She has little intention of painting the wall preferring to paint herself.
Movie CC61 is re-posted after 2 years on the Download site to the Subscription site as well, plus 73 enhanced (full screen) images in set W364.
For Wetlook, we take a further look how Mrs. Custard Couple (CC) fared in Wet Quiz 1, movie WSM138/CC36 running 19 mins, plus 130 images in set W320.

Also in this Update:
Two movies and image sets of the smoldering beauty Mia are available either as Downloads or as part of the Subscription site.
Sultry brunette Mia enchants us all with movie WSM075 with golden syrup, topped off with sprinkles.
Plus in movie WSM077 she is under the shower in a short sleeve top, mini skirt and blue undies.
Take your pick – Messy or Wet but each with a stunning low price!
Do note that all updates this week are available on the Subscription site.

WSM now have 273 movies and 443 image sets available for the price of a Subscription!
What a back catalog that is!
But no need to pick just one or two as they are ALL available for the cost of a Subscription.
CLICK HERE TO VIEW COSTS FOR A SUBSCRIPTION TO THE WEBSITE
SEE ALSO THE WSM ONLINE STORE (no membership required)
Click on movie and page down for full description and sample images, for
50 VINTAGE FILM DOWNLOADS
PLUS 86 New 'WSM Movies & Images' with 1/3rd available on the Subscription site too.
PLUS 16 Movies with Images transferred from the Subscription Website and now also available as Downloads
and XXX section with 70 MOVIES with Images, only available as Downloads.
CLICK HERE TO GO TO THE WSM 'DOWNLOADS ONLINE STORE'

We also have a UMD STORE and transfer MOVIES and IMAGES regularly
CLICK HERE TO GO TO THE UMD STORE






SUBSCRIPTION WEBSITE
WETLOOK
In 1994 WSM published the 1st Slapstick Quiz (see Vintage Film 7 Stream 7 'Plastermind' with 5 girls, running 5 minutes).
Since then, there have been countless further Slapstick sketches made by many producers.
But by April 2013 I had not seen a serious Wet Quiz!
So WSM published our 1st Wet Quiz in bothMovie WSM138/CC36and Image set W320.
And besides water, the main ingredient is FUN.
All our small team played their part:
Mrs. Custard Couple (CC) as the contestant.
Mr. CC and the Phantom on cameras, then as water chuckers.
Film editor Steve capturing the action as HD movie, then editing and including some great visual and musical jingle effects.
And the busiest man…..me (Mike Ellison) on 35mm, producing and directing plus writing the questions and acting as MC.
And the result?Great Wetlook and great comedy!
And the performance of Mrs. CC?
Absolutely abysmal……with only 3 correct answers from 10 questions on her specialist subject!
Mr. CC was so enraged that he brought us to a very amusing and spontaneous ending!
Images and movie Clips in no way do this justice….you need to see the 19 minute Movie!
We show you 2 Clips from Movie WSM138/CC36as Mrs. CC receives two of her soakings!
>>>>> SEE CLIP
>>>>> SEE CLIP


Image set W320 has 130 images capturing Mrs. CC's performance.
Do you approve of her clothing choice?
If not…..then what should she wear?
Mrs.CC may be invited back for a 're-sit'.
But it all depends on your response!
So to help you make up your mind, here are 5 sample shots from the Quiz Show.
So what happened?
Yes, she was invited back.
Movie WSM164 of Wet Quiz 2 was shot November 2013, and we will review that again next week.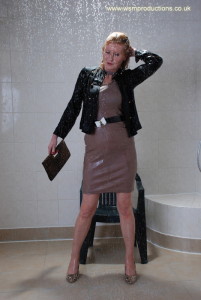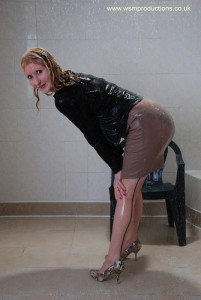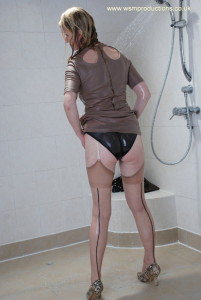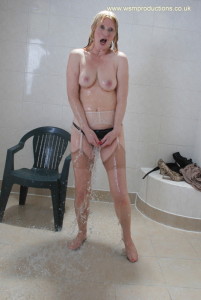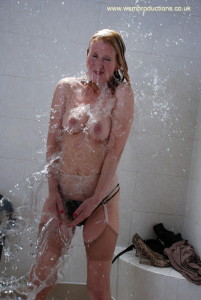 To join the Subscription website with access to 273 movies and 443 image sets, see cost below:
CLICK HERE TO VIEW SUBSCRIPTION COSTS
We continue to take SUBSCRIPTION payments in £ Sterling, US dollars and Euros, for membership of the WSM Website.
The Subscription site does not include access to new movie/images Downloads in the Online Store, which we have added during the last two years,or any XXX movies.
Since April 2017, Movies and Image sets added to the WSM Online Store under 'WSM Movies & Images' are added also to the Subscription site, 2 years after being posted as a Download.
Look at the JOIN NOW page to see our great value for 30 day, 3 month and 6 monthly Subscriptions as for a Subscription you can access:
273 Movies averaging 30 minutes each, including 18 Messy Wrestling Movies and 70 Custard Couple Movies, (which include 24 joint productions with WSM),
15 vintage movies and 170 normal WSM movies (excluding 24 duplicated joint production movies with Custard Couple).
PLUS 45,850 Images in 443 sets (being 160 W + 202 S + 81 M).
But if you want to see all these Movies and Image sets, then you need to take a Subscription to become a Member.
Click here to see the new better value Join costs!