Something controversial as WSM break new ground with our 1st Cross-Dress movie XXX006 running 40 mins, plus 84 pics in image set S356XXX with our adventurous Custard Couple (CC).
Then for our Wetlook fans, we review again 20 minute movie CC16 with Mrs. CC in a soaked white satin dress outdoors, plus 76 images in set W304.

Also in this Update:
Plus two further stunning sets:
Re-posted from our Download only section to become an addition to the Subscription site is movie WSM169 as mature lady Dee takes on the silty, peaty, oily mud to become a glistening muddy delight!
Add in 323 images in set M206 and this is astounding content and value!
Then we see Dee in one of her best studio wet shoots featuring 3 different outfits in Wet Parade, movie WSM179 plus 271 shots in image set W343.
All above shoots excepting the new XXX Cross Dress movie are available on the Subscription website.
We still take Subscriptions to our Website – Memberships extending for up to 6 months are available. Subscription prices will change from 13th October.
CLICK HERE TO TAKE A SUBSCRIPTION TO THE WEBSITE
SEE ALSO THE WSM ONLINE STORE (no membership required)
Click on movie and page down for full description and sample images.
FOR 50 VINTAGE FILM DOWNLOADS
PLUS 74 New 'WSM Movies plus Images'
PLUS 16 Movies with Images transferred from the Subscription Website and now also available as Downloads
and XXX section with 63 MOVIES with Images, only available as Downloads.
Do you know what happens when you purchase one of the above Downloads?
You are given your own personal user code with Verotel.com
If you purchase further, these are added to your account.
You can access your movie and image downloads at any time via Verotel.com
Do you have Security concerns on your computer?
Here you have a ready answer as all your download purchases are held with Verotel.com
To enter the Verotel download site, access is through https://wsmprod.com/content_area.php (note, underscore after content)
This only applies for purchased Downloads.
GIVE IT A TRY.
CLICK HERE TO GO TO THE WSM ONLINE STORE

We also have a UMD STORE and transfer MOVIES and IMAGES regularly
CLICK HERE TO GO TO THE UMD STORE




SUBSCRIPTION WEBSITE
WETLOOK
This week we look at another Image Wetlook set of Mrs. CC W304, not only with Enhanced (full screen) images, plus a 20 minute movie CC16 of the shoot.
Take a simple idea.
For Mrs. Custard Couple (CC) this is 'I want to get wet!'
Think about your best and most suitable clothes to be soaked in.
So Mrs. CC came up with her white satin dress with sexy, brief black edged bra and pants undies set (that cling when wet), a full black garter belt, nylon stockings…. and to finish off, red heels!
Next is where do you get wet?
Mrs. CC has tackled sea shots and river shots, but for an impromptu wetting, home is the best place! And as it was summer……it just has to be outdoors!
Hook up the garden hose, pull out the sun-lounger…..the sun is shining and the birds chirping, so off we go!
So Mrs. CC gets totally wet and during this 20 minute HD movie CC16 she slowly strips down to end in her knickers.
Being Mrs. CC then wet really does mean WET!
So Mrs. CC is sprayed all over by that hose-pipe with good sound effects.
Nothing escapes as she includes face and hair.
Mr. CC acts as cameraman and does not get involved in the action.
Take a look at the 2 Clips which show Mrs. CC's outfit and how wet she got!
>>>>> SEE CLIP
>>>>> SEE CLIP


We also include 76 shots of Mrs. CC under the hose-pipe in her garden, now Enhanced to Full Screen.
These are not just good, they're great!
Image set W304 gives a complete record of Mrs. CC's soaking.
We show you 5 sample Full Screen shots of Mrs. CC enjoying her wet fun.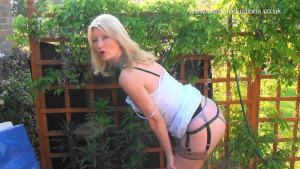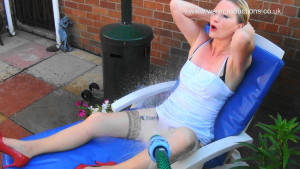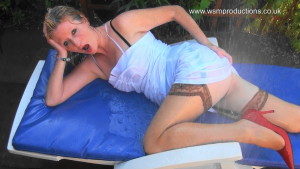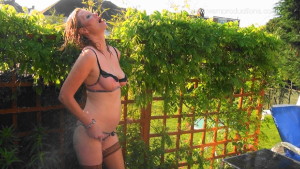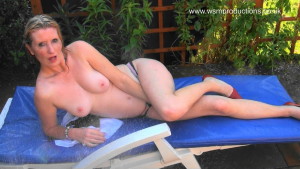 We continue to take SUBSCRIPTION payments in £ Sterling, US dollars and Euros, for membership of the WSM Website.
The Subscription Website does not include access to new movie/images Downloads in the Online Store, which we have added during the last two years or XXX movies.
Since 14th April 2017, Movies and Image sets added to the WSM Online Store under 'WSM Movies & Images' are added also to the Subscription site 2 years after being added to the Downloads.
Look at the JOIN NOW page to see our great value for 30 day, 3 month and 6 monthly Subscriptions as for a Subscription you can access:
249 Movies averaging 30 minutes each, including 18 Messy Wrestling Movies and 58 Custard Couple Movies, (which include 21 joint productions with WSM),
15 vintage movies and 158 normal WSM movies (excluding 21 duplicated joint production movies with Custard Couple).
PLUS 42,055 Images in 421 sets (being 153 W + 192 S + 76 M).
But if you want to see all these Movies and Image sets, then you need to take a Subscription to become a Member.
Click here to see Join costs!