We continue our Tribute to Custard Couple after 6 years 0f association

What looks just as good as water and gives a fabulous sheer, sheen effect?
This Cooking Oil shoot published on 14th October 2016 shows what can be achieved.



WETLOOK DOWNLOAD
We have 25 minute HD movie CC88 as mature lady Mrs. Custard Couple (CC) indulges in outdoor oily play using vegetable oil in a field beside a river.
In addition there are 100 images of her oily play in set S402.
Plus…..a new write-up format.

To Purchase movie CC88 go to 'WSM Movies & Images Section' in the Online Store under 'Mrs.CC in Slippy Cooking Oil'.

'Mrs. CC in Slippy Cooking Oil'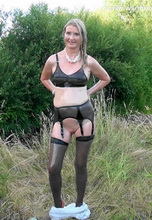 Movie CC88
Run-time 25 mins 41 secs

3 HD Streams plus 3 HD Sample Clips

Time for a change and an alternative write-up for this movie.
And who better to ask than Mrs. CC.
This is what she wrote:
"How much do you enjoy a lovely oily massage?
Well I definitely do, and as I was getting frustration symptoms, as Mr. CC was away on business, I decided to have some messy, slippy, oily fun on my own down by the river.
Dressed in very sexy vintage black underwear, teamed up with a satin white midi length skirt and sheer pink blouse, I made my way laden with sunflower oil for some private slippery fun!
I had not really intended to soak my outfit in oil, but then I thought what-the-hell!
I love getting wet and messy in my clothes……so why not!
With the sun shining I emptied the 1st bottle of oil over the front of my blouse, which instantly turned see-thru revealing my black bra.
Next, the oil ran down my back and soaked into my satin skirt, so showing my black panties through the material.
Oh! This is just divine I murmured to myself!
I was now feeling extremely turned on, so pulling my tight black panties down just a little on my thighs, I used the empty small oil bottle to stroke my pussy!

The next full sunflower oil bottle was emptied over my head, soaking my long blonde hair so that it shone in the sun!
How naughty all this felt!
I sunk down onto the grass removing my skirt and sliding my knickers down my thighs again as I gave my pussy and clit the oily treatment emptying a full bottle of oil over my shaven pubes.
Slurpy sounds came as I rubbed my arse and crotch into the oily ground.
I lay back for some heavenly clit play!

Desperately unfastening my blouse it was time for oily tits play.
How excited were my boobs as they bounced up and down!
But I was anxious for full gratification as stroking my clit, I frantically brought myself to a very slippy and hugely satisfying orgasm!
You can watch all this in close-up detail as I drench myself in oil while giving myself this much needed relief!
Then I re-dressed in my oily skirt and blouse to make my way home, hoping I met no walkers or joggers.
Now you know what happens when Mr. CC goes away for a couple of days and I miss my messy fun!"

So Mrs. CC tells it as it is!
This really is very full-on horny silky, messy, oily fun.
And Mrs. CC has only two aims – get as oily as possible both clothed and unclothed.
Have the orgasm she craves!
Some highlights:
Of course Mrs. CC chats continually to you through the shoot.
Underwear shows though her clothes – the black turns shiny.
Seamed glossy stockings are great.
'Clitty feels good all nicely oiled up'.
'Will have to have a little play' (with self!).
Superb oily hair and face shots.
Uses a whole bottle of oil for a bare pussy oil bath!
Prolonged pussy/clit play stimulation.
Super oily tits shots.
If you want to see a mature lady in frantic oiled up clit play? Here it is!
As Mrs. CC says, she gets totally trashed!

In addition to the 25 minute movie there are 100 shots in image set S402.
The image shots include 23 additional shots not covered by the movie.
The 5 Clips and 5 sample images cannot lie!
We hope you like them?
This is another great movie and image set with the delightfully provocative Mrs. Custard Couple.

>>>>> SEE CLIP
>>>>> SEE CLIP
>>>>> SEE CLIP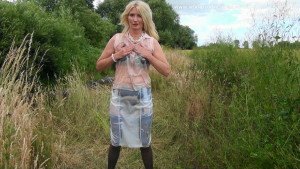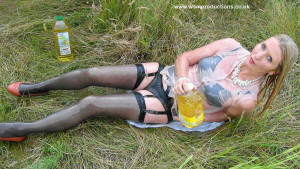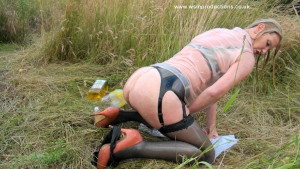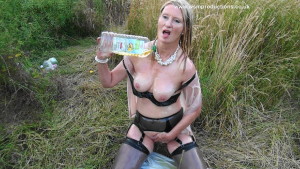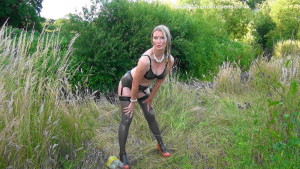 If you wish to see movie CC88, this is only available under the 'WSM Movies & Images Section' in the Online Store for purchase as a Download only and is listed as 'Mrs. CC in Slippy Cooking Oil'.

MOVIE CC88 of 'Mrs. CC in Slippy Cooking Oil' has 3 HD Streams.

PRICE
£6-00 GBP
$9-60 USD
Euro 7-90




We continue to take SUBSCRIPTION payments in £Sterling, US dollars and Euros, for membership of the WSM Website.
We do occasionally add Subscription updates as we do today with new retro Image sets W018 of Cherry from 1978 plus W036 of Jane from 1981.
The Subscription Website does not include access to new movie/images Downloads in the Online Store, which we have been adding since April 2015.
Look at the JOIN NOW page to see our great value for 30 day, 3 month and 6 monthly Subscriptions as for a Subscription you can access:
239 Movies averaging 31 minutes each, including 18 Messy Wrestling Movies and 55 Custard Couple Movies, (which include 21 joint productions with WSM),
11 vintage movies and 155 normal WSM movies.
PLUS 40,392 Images in 410 sets.
But if you want to see all our Movies and Image sets, then you need to take a Subscription to become a Member.
Click here to see Join costs!